SSC MTS Books 2022
This is the very pleasing moment that Staff Selection Commission is going to hold a Multi-Tasking Staf Non-Technical examination. So Candidates who are appearing in the SSC MTS 2022 Exam need to prepare very hard and seriously to get through this big exam. So all candidates are worried that Which books should refer to and which should not to prepare for the exam. The candidates are searching for the SSC MTS Books 2022 Preparation online. So here are providing all details of about Multi Tasking Staff Paper 1 and Paper 2 Exam Preparation important Books for SSC MTS Exam Preparation.
Check SSC MTS Exam Date 2022:- Dec/Jan 2022

Best Books For SSC MTS 2022
This is a very good opportunity for those who are Matriculated or equivalent to get Group C & D jobs in various government Departments and Ministries. SSC Multitasking Staff Recruitment 2022 Exam is for the desirable candidates who want to choose their career in various jobs such as Peon, Waterman, Chowkidar, etc. You can check all the best books on the SSC MTS Preparation 2022 exam from this page. Now in these dynamic exam competitions, it is very hard to get through. So candidates must be prepared as following these useful SSC MTS Books 2022 Tier 1 & 2 Exam as paper wise and subject wise of English, Hindi, Maths, Reasoning.
SSC MTS 2022 Books
Around 70 lakhs candidates are ready to appear in the SSC Multi Tasking Staff 2022 Exam but a few candidates will get their success. So it is very important to study in very good manners. The Competition is going to be very tough to crack. So now aspirants need to prepare out of the box and need very good study materials. After analyzing the previous Year's MTS Question papers and getting the opinion from experts we have concluded the some Best SSC MTS Books 2022 Preparation for both Paper 1 and 2 exams. Candidates can check and download the Books in Hindi and English for exam preparation. The SSC MTS Tier 1 Books 2022 PDF is also avaialbel to preparation.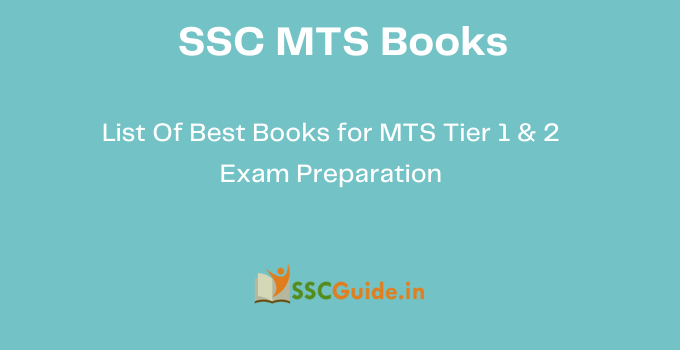 List of Best Books for SSC MTS Tier 1 2022
We are here to provide you List of the best books for MTS English, Maths, Reasoning, and Hindi. We are mention here is the list of SSC MTS Books 2022 According to every stage of Tier 1 and 2 Exam. Here is the list of best books for Practice for Paper-I as Subject wise and Topic wise. Candidates can buy online these books easily at the given link directly.
Subject
Books
Buy Online
General Intelligence & Reasoning
Amazon
Flipkart
Analytical Reasoning by M K Pandey
Verbal and Nonverbal Reasoning by R S Aggarwal
A New Approach to Reasoning Verbal, Non-Verbal & Analytical by B S Sijwali, Indu Sijwali
Reasoning For General Competition by KD Campus
General Awareness
Lucent's General Knowledge
Manorama Yearbook
GS Set For General Competition by KD Campus
English Comprehension
Objective General English by S P Bakshi
Quick learning Objective General English by RS Aggarwal & Vikas Aggarwal
English For General Competition Vol 1& 2 by KD Campus
Quantitative Aptitude
Arihant Fast Track Objective Arithmetic
Quantitative Aptitude for Competitive Examinations (R. S. Aggarwal)
Arithmetic For General Competition Vol 1& 2 by Neetu Singh
Best Books for SSC MTS Tier 2
We have already discussed earlier in the Exam pattern post about the Multi Tasking Staff Exam Scheme. The examination is going to be held in two stages as Paper 1 and Paper 2. The SSC MTS Books 2022 Paper I have above listed. Now after qualifying the candidates would be appear in the Paper-II Descriptive exam. Here is the best SSC MTS Tier 2 Books Subjective Paper Preparation study Materials. It is paper pen mode exam. This paper contain essay writing, letter writing. Mainly in this paper question comes from current issue topics.
List Of Best Books For Topic wise
Essays By Arihant Publications
Tata Mc Grow Hills Publications(Hindi/English)
Hindi Nibandh by Arihant Publication
A Handbook for Letter Writing by Arihant Publications(Hindi/English)
SSC MTS Exam Pattern 2022
SSC MTS Preparation 2022 Books
Many Of Candidates waste their time searching for the best books for SSC MTS 2022 Hindi and English. Candidates are very confused about choosing the best books for preparation. So we are here to provide the best books for both Tier and 2. GK, GS, Reasoning, Maths, And English play a very huge role to crack the exam. So we are giving you the details of SSC MTS Books Arihant PDF Free Download or Buy Online as subject wise. The books that we are providing are enough for self-preparation. All The candidates need to read these books seriously and practice hard to get success in the exam. We will help you to provide SSC MTS Books 2022 at every and step to get crack the exam.
SSC MTS Previous Year Paper With Solution PDF
SSC MTS Syllabus 2022
SSC MTS Expected Cut Off Marks 2022
SSC MTS Books PDF Free Download
The Staff Selection Commission has already notified the SSC MTS Exam Date 2022 Tier 1 and Tier 2 Objective and Subjective papers respectively. The Candidates need now the SSC MTS Books PDF Free download from here. The Syllabus and Exam Pattern of the examination is now also published officially. Students should have prepared accordingly to follow this exam syllabus. Now the pour exam preparation team is also suggesting the best SSC MTS Books 2022 list for Tier 1 and Tier 2 exams. The candidates can follow these Study Materials and notes and prepare for examinations. The exam competition is going to be very tough so candidates need to kick start their exam preparation as now after getting this SSC MTS Study Materials online buy.
SSC MTS Preparation Tips
The Examination for the competitive of Multi Tasking Staff Non-Technical is going to very tough as huge no of aspirants applied. Now the candidatures have also suggested the Best SSC MTS Books 2022 PDF online buy. The candidates also need a good exam preparation Strategy and plan to get a high score. So here we are providing some very useful Preparation tips to candidates How to get sure success in SSC MTS 2022 Preparation Tips is followed:
Determination about your goal.
Do smart hard work.
Regular Study and Practice is the main key to success for this exam.
Study Topic-wise syllabus.
Keep Revision of topics.
Practice a lot of Previous year's Exam test papers and Mock Test Paper.
A very good Exam strategy.
Give your 100% effort to get through this exam.
The SSC MTS Preparation Guide Team is always dedicated to providing the most important useful study materials, Previous Year Question Paper, Online Mock Test Paper. So keep in touch to get also latest updates and news regarding the Admit Card, Syllabus, Answer Key and Result, etc.
Take SSC GK Online Quiz
Take SSC Quant Quiz Online
Check SSC MTS 2022 Exam Latest Notification:- Check Here
Click here for more details:– http://ssc.nic.in/
For Latest SSC Jobs Notification Bookmarks This Website (CTRL+D):– www. sscguide.in

Download SSC MTS Notification 2022 PDF
"If candidates have any doubts/Query then you can discuss the same in below comment box. Our expert team is available to help you as soon as possible. Don't forget to Share this on Facebook, Twitter, Google+ to help other aspirants."