SSC Stenographer Books 2022
Dear aspirants, you are most welcome at our website www.sscguide.in to get all details about How to Prepare for SSC Stenographer Books 2022. The Staff Selection Commission has been released the official SSC Stenographer Notification 2022 Vacancy for the recruitment for the post of Stenographer Grade" C"(Group 'B' Non-Gazetted ) and Stenographer Grade "D"(Group C" Non-Gazetted) vacancies in a various central government department and offices. So this time it is the best opportunity for all the job seekers to get a reputed Government job. There is a huge no of applicants testing their fate to get through in the SSC Steno 2022 Exam. So candidates need to prepare very hard to get a good score. These suggested Stenographer Grade C & D Books will help you to achieve your dreams.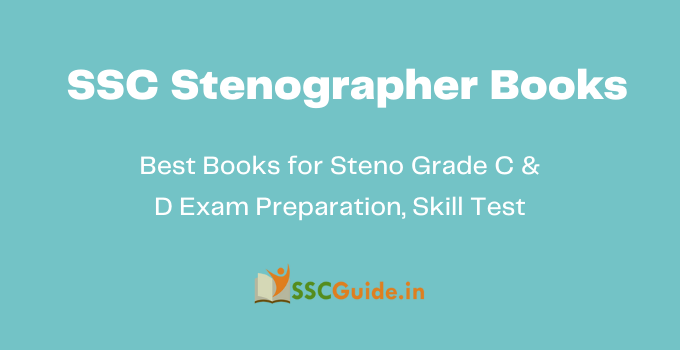 Best Book For SSC Stenographer 2022
So candidates who are appearing in the SSC Stenographer 2022 Vacancy Exam need to prepare very hard and seriously to get through this big examination. So all candidates are worried that Which books or study materials should refer clear the exam. Candidates should not be perplexed about the SSC Steno Books preparation, our preparation team is laid down some useful and best books for the Paper 1 and Skill/Typing Test Exam. So here are providing all the detailed wise updates Best Books for SSC Stenographer Preparation each and every subject with topic wise. So students need to follow the Exam Pattern carefully and prepare hard with the SSC Stenographer Books 2022 listed below.
SSC Stenographer Books 2022 – Best Books for Steno Grade C & D Preparation
SSC Stenographer Exam 2022 Books In Hindi/English
After very comprehensive research for the Study materials for SSC Stenographer Grade C and D, 2022 Books examination our expert team has suggested some finest study materials with topic and subject wise. This listed SSC Stenographer Books 2022 PDF is followed for enough to crack this examination easily. Aspirants are suggested not to go for vast study books and concise your preparation to following these books. So here is the list of best books for SSC Stenographer Written Test and Skill Test buy Online
Subject Books Buy Online
General Intelligence & Reasoning Amazon Flipkart
Analytical Reasoning by M K Pandey
Verbal and Nonverbal Reasoning by R S Aggarwal
New Approach to Reasoning Verbal, Non-Verbal & Analytical by BS Sijwali, Indu Sijwali
Reasoning For General Competition by KD Campus
General Awareness Lucent's General Knowledge
Manorama Yearbook
GS Set For General Competition by KD Campus
English Comprehension Objective General English by S P Bakshi
Quick learning Objective General English by RS Aggarwal & Vikas Aggarwal
English For General Competition Vol 1& 2 by KD Campus
Percentage For SSC, Bank, RRB, Railway
Recommended Books SSC Steno Exam Previous Year Paper
All the aspirants are requested to solve the previous year's paper to know the examination question paper difficulty and for time management during the main exam.
Question Paper Books Amazon Flipkart
SSC Stenographer Grade C & D Examination Solved Papers by Vidya Editorial Board
SSC Stenographer Grade C & D Exam Goalpost, Solved Papers & Practice Test by Wiley
SSC English Language Chapter-wise Solved Papers 8800+ Objective Questions by Kiran Prakashan
SSC Stenographer Question Papers Solved
SSC Stenographer 2022 Vacancy
The Commission has been proposed the SSC Stenographer Exam Date 2022 for Tier 1 and Tier 2 exams. The candidates need now to prepare to follow these SSC Stenographer Books 2022 In Hindi English PDF. The candidates should have practiced the books provide here to get a very good score in the examinations. As per the official Syllabus and Exam Pattern, the examination is going very tough. So each and every aspirant needs to prepare as out of the box. Then our expert team is suggested guidance for How to prepare for SSC Stenographer Exam here. Aspirants are studied seriously and smartly as provided Kiran Publication Book for SSC Stenographer 2022 here.
SSC Stenographer Books 2022 PDF
The SSC Stenographer Exam 2022 is going to be a very tough and difficult exam. Many of lakhs candidates appeared in the examination every year but a few candidates get their success. So it's a very big dilemma for the aspirants that apart from a huge Syllabus how to handle it. Our Expert team is also compiling the detailed SSC Stenographer Syllabus 2022 and asking previous successful candidates about the whole scenario of the examination. Thereafter they have suggested some best SSC Stenographer Books 2022 in English and Hindi for the Written and Skill test examinations.
SSC Stenographer Exam Pattern 2022
SSC Stenographer Syllabus 2022
Candidates should now take these comprehensive study materials and kick start their preparation without wasting a single penny of time. The best Arihant Books for SSC Stenographer Skill Test and written exam play a vital role in your preparation. The Books are your teacher to learn the best thing about examination. We are also here providing the SSC Stenographer Books 2022 PDF to download for General Awareness, English Comprehension, General Intelligence, and Reasoning subjects wise. All the candidates must read these books and practice a lot to crack this tough nut. We wish you all the best for the exams.
SSC Stenographer Exam Date 2022
SSC Steno Expected Cut Off 2022
SSC Stenographer Preparation Tips
We have recommended some finest and lucrative SSC Stenographer Books 2022 for the forthcoming papers. So all the candidates are requested to keep preparing for the examination to follow these above-listed books. The students have advised some very useful preparation tips so that they get through this hard nut as easily.
Students should be determined about their goals.
Follow a comprehensive and most designated Books of examination.
Do regular Study and Practice.
Make an exam-oriented preparation Strategy.
Practice a lot of Previous Year Exam Papers and Mock Test Papers.
Always set a daily goal and achieve it honestly.
Never Distract from the ambiance of examination.
Always Focus on your aim.
Practice Makes Perfect.
Take mock test papers or Model papers periodically.
Now after Commission is releasing the official notification for the Steno Grade C and D Syllabus and Exam Pattern. The Candidates are impatiently searching for the SSC Stenographer Best Books 2022 In Hindi and English. After deep research of the previous examination and recommendations by the previously selected candidates, our expert team has listed the SSC Stenographer Grade C and D Preparation Books PDF here.
The SSC Steno Exam Preparation team is providing the daily Study Materials and Not for the exam preparation. So all the candidates keep visiting here regularly to get the latest updates regarding exam notification, Question Papers, etc.
Take SSC GK Online Quiz
Take SSC Quant Quiz Online
Check SSC Stenographer Exam Date 2022 Updates:- Check Here
Click here for more details:– http://ssc.nic.in/
For Latest SSC Jobs Notification Bookmarks This Website (CTRL+D):– www. sscguide.in
"If any candidates want to discuss their concern then put the same in the comment box below. Our expert team will assist you as soon as possible. Don't forget to share this on Facebook, Twitter, Google+ to help other aspirants."